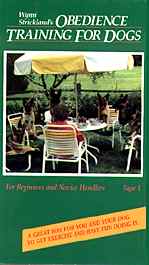 Tape 1: For Beginner's and Novice handlers
This Training Video is completely spontaneous and entirely unrehearsed. Observe how Wynn controls and trains these untrained dogs. This method works wonders for all Beginners and all breeds of dogs.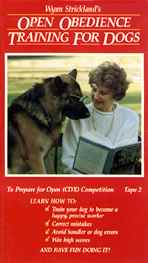 Tape 2: Make a smooth transition from Novice to Open off leash, jumping, retrieving
This tape illustrates precision training using natural motivation. It helps you avoid problems in all the exercises including Drop on Recall, Jumping, Retrieving and much more. It will help you "read" your dog correctly. Learn how to prepare for Open (CDX) competition.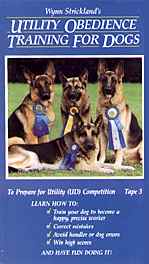 Tape 3: Utility exercises made easy, with excellent tips
The transition from Open will make Utility work easy. This tape covers problems and solutions for all exercises. Learn how to understand your dog and avoid confusing him. As you encourage your to dog to learn, expect normal mistakes, but quickly show him the correct method. Learn how to prepare for Utility (UD) competition.