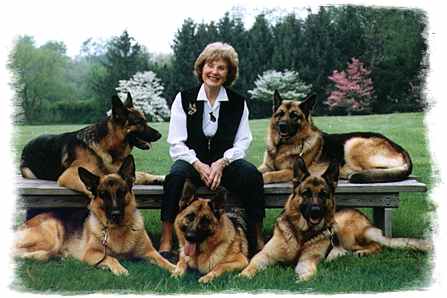 Winifred Gibson Strickland is the owner of Wynthea Kennels, the #1 German Shepherd Kennel in the United States for American-bred Working dogs. Her dogs are renown for their very high intelligence, sound temperaments and beautiful conformation. Her German Shepherds carry the best German bloodlines through the current German Siegers and Siegerins. She ships dogs all over the country. Her Wynthea Kennels have been home to 29 Champions.
Wynn was an AKC Obedience judge for 18 years and judged all classes including Tracking. She was a Director of the German Shepherd Dog Club of America. She is President and Founder of the Diamond State German Shepherd Dog Club, Honorary member of the Southern New Jersey German Shepherd Dog Club, member of the GSDCA-WDA, the USA Schutzhund Club and the SV (Germany).
Wynn Strickland is one of the world's premier dog trainers. She owned and trained three German Shepherd Dogs who were named the National Obedience Champions for five consecutive years. When she competed with two of her dogs during those years she also won the Runner-up title. Her kennel name, Wynthea, is derived from her name, Wynn, and her three great Champions Topper (Margelen's Chieftain, UDT (Utility Dog Tracking)), Hussan, (Hussan vom Haus Kilmark, UDT), and Arry, (Alf vom Kroppelberg, UDT).